Workplace relations minister defends stripping ABCC of its powers
By

Angus Thompson
Staying with Tony Burke for a moment, and the minister for workplace relations has been asked several questions about the fate of the Australian Building and Construction Commission.
As you might recall, Burke announced over the weekend that he would defund and ultimately abolish the construction industry watchdog because Labor believes it is politically driven.
The Labor MP told Radio National that if the government isn't able to abolish the body through the Senate, as it is a statutory authority, then it would exist in name only. He agreed it was an awkward arrangement but "not unheard of".
Loading
Asked why the ABCC's commissioner, Stephen McBurney, is allowed to keep his $450,000 salary for doing very little, Burke responded that it was a statutory appointment.
"I would've liked to abolish the organisation yesterday."
Burke also revealed that the Fair Work Ombudsman, which will take the 39 outstanding prosecutions of the ABCC and its oversight powers, would not receive as much funding as the latter, as it wouldn't be pursuing unions as vigorously as the ABCC.
Government will honour election promises if climate bill rewritten: Burke
By

Angus Thompson
The government's leader in the House of Representatives, Tony Burke, says Labor intends to honour its election commitments following reports the government could rewrite its climate reform bill to secure support from the Greens.
While the government has previously stated that its 43 per cent target will not put a limit on its climate action, Greens leader Adam Bandt is concerned the original draft did not spell that out and could have acted as a cap on emission reductions.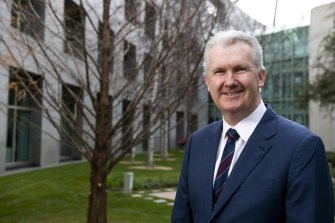 Asked on RN Breakfast whether the federal government is prepared to allow the target mechanism to be ramped up, Burke replied that Climate and Energy Minister Chris Bowen is leading negotiations. He also said Labor isn't going to depart from its election commitments.
However, he added that the government is prepared to have discussions "in good faith, in regards to tweaks to the legislation".
"My intention is to get it through the house this fortnight," Burke said.
Your guide to the opening of the 47th parliament
By

Broede Carmody
Prime Minister Anthony Albanese has been spotted arriving in the vicinity of Parliament House.
Earlier, television cameras showed Opposition Leader Peter Dutton arriving for morning prayers.
Here's how the rest of this morning's proceedings will unfold:
There will be a Welcome to Country ceremony in the Great Hall at 9am AEST.
The deputy of the governor-general and the chief justice of the High Court will arrive mid-morning. The governor-general's deputy will then attend the Senate where she will address the members of both houses and formally open the 47th Parliament. The swearing-in of senators and lower-house MPs, the election of the Senate president and the speaker of the House of Representatives will then take place in the respective chambers.
The governor-general himself will then arrive at Parliament House in the afternoon. David Hurley will receive the royal salute and inspect the guard.
The governor-general will then proceed to the Senate and summon the members of the House of Representatives. When all MPs are gathered, Hurley will declare the 47th parliament open. At the conclusion of his address, there will be a 19‑gun salute on the forecourt of Parliament House.
The governor-general will then depart Parliament House around 4.40pm AEST. Both houses will re-commence sitting at 5.00 pm AEST.
Greens leader flags potential climate bill dealbreakers
By

Broede Carmody
Speaking of the Greens, the party's leader – member for Melbourne Adam Bandt – has appeared on ABC News Breakfast.
Here's what he said when asked whether the Greens will support the government's climate legislation: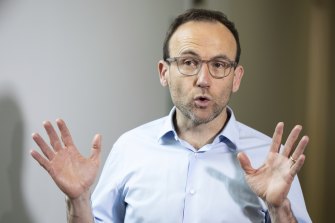 We're having discussions with the government at the moment negotiating on our areas of concern. Our hope is we can end up with a situation where we can improve the government's bill and pass it.

But there's a number of areas of concern for us. Obviously the target is a very weak target. Part of the reason why it's a weak target is because Labor has based it on keeping all of the coal-fired power stations in the system and not pulling any of them out early and replacing them with renewables, and that's a problem.

We [also] need to make sure this is a genuine floor… [that] you can't go below the weak target. And [that] it's not a ceiling.

We have been concerned the bill has no teeth, it doesn't actually bind the government to do anything. We don't want to be in a situation where parliament may pass a bill on a Monday to cut Australia's pollution and then on Tuesday that good work gets undone when the government opens big new gas projects that would blow that target out of the water.
And here's what Bandt had to say when pressed on why the government should fold to his demands when Labor is the one in government and not the Greens:
We've had an election where Labor's vote went backwards. The Coalition vote went backwards. And the parties and independents whose vote went up were the ones who said it's time to get out of coal and gas.

We now have this situation where the parliament is about to start, you have roughly a third of the country who voted for the government … roughly a third voted for the Opposition and roughly a third voted for someone else. It's incumbent on us in this parliament, if people start talking about questions of mandates, to recognise that power is now shared – especially in the Senate. We need to work together.
Liberal MP backs Labor's proposed climate bill changes
By

Broede Carmody
Returning to federal politics, and Tasmanian Liberal MP Bridget Archer – who made headlines last year for crossing the floor to vote for a debate on a crossbencher's proposed national integrity commission – has fronted the ABC's RN Breakfast.
Archer, who managed to retain her marginal seat at the recent election and even increased her lead, said she would welcome the Albanese government rewriting its climate bill.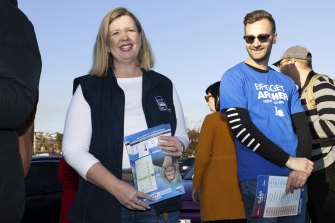 As Mike Foley has written, Labor will make clear that its 43 per cent emission reductions target by 2030 is a floor and not a ceiling to win support from the Greens.
Here's what Archer told Radio National:
Ending the climate wars is really the perspective I am approaching this subject from. 

The election has shown us, among many things, that this is an issue that is important to Australians. We are facing many threats as a result of climate change. But for me, and as a Tasmanian, I can also see there are a lot of opportunities. 

And that's, I think, a core equity of the Liberal Party… is to look at, what are the opportunities? I think this presents something we can look at and consider going forward.

When we were in government we were looking to exceed the targets we had set. I think that's acceptable.

I think we can fixate on the number. And that's part of the climate wars, if you like. Does it not go far enough? All those things. But I think we need to shift that conversation to taking some action.
What's making world news?
By

Broede Carmody
Several high-profile politicians are about to do the morning media rounds ahead of today's parliamentary sitting.
Before we get into that, here's what's making headlines overseas.
Canada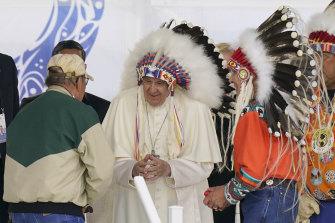 Pope Francis has issued a historic apology for the Catholic Church's cooperation with Canada's "catastrophic" policy of indigenous residential schools.
The religious leader says the forced assimilation of Native peoples into Christian society during the 19th and 20th centuries destroyed their cultures, severed families and marginalised generations.
"I am deeply sorry," Francis said to applause from school survivors and community members gathered at a former residential school south of Edmonton, Alberta.
More background is available here.
United States
Staying in North America, and the United States State Department says Deputy Secretary of State Wendy Sherman will soon visit Solomon Islands.
As regular readers of this blog will know, ties between the Pacific nation and China have come under the spotlight recently given it lies just a few thousand kilometres from Australia's coast.
The announcement comes after former Australian prime minister Paul Keating accused US House Speaker Nancy Pelosi of inflaming tensions with China over a planned visit to Taiwan.
Europe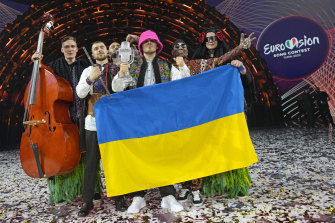 And next year's Eurovision will be staged in Britain, organisers have announced, after concluding it is too risky to hold the song contest in the designated host country, Ukraine.
The UK says the 2023 event would be a celebration of Ukrainian culture and creativity.
Ukraine won the right to host the pan-continental music competition when its entry, the folk-rap ensemble Kalush Orchestra, won this year's contest back in May. Britain's Sam Ryder landed in second place.
The BBC has agreed to broadcast the show on behalf of Ukraine's national broadcaster.
The fate of the 2023 contest had featured in talks between Ukrainian President Volodymyr Zelensky and British Prime Minister Boris Johnson.
You can read what organisers had to say here.
with AP, Reuters
Government to rewrite climate bill to win over Greens
By

Mike Foley
The Albanese government is promising to rewrite its signature climate reforms to secure support from the Greens by including a change to make clear its target of 43 per cent emissions reduction by 2030 is a minimum that could be upgraded over time.
Labor's concession on the eve of the first parliamentary session is a crucial bargaining play as the new government seeks support for its first major bill.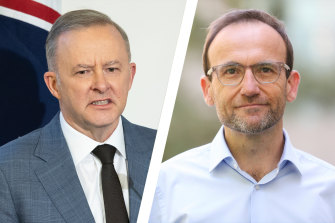 While the government previously stated that its 43 per cent target would not put a limit on its climate action, Greens leader Adam Bandt is concerned the original draft did not spell that out and could have acted as a cap on emission reductions.
However, Labor has stopped short of some of the Greens' biggest demands, such as phasing out coal and gas exports, and it remains to be seen if this rewrite of the bill is enough to lure the minor party across the line.
More on this issue here.
Mail from China, Indonesia to be checked for foot and mouth disease
By

Benjamin Preiss
Any packages sent from Indonesia and China will be screened for foot and mouth disease, the federal government has confirmed.
It comes after Australia's first sanitation mats were installed at major airports overnight to avert a local outbreak of the virus.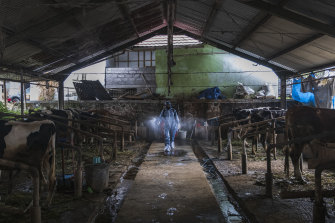 The federal government has promised the strongest ever biosecurity controls at airports. But travellers arriving from Indonesia reported little scrutiny when passing through customs on the weekend.
Read the full story here.
This morning's headlines at a glance
By

Broede Carmody