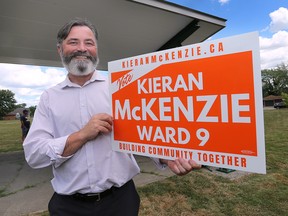 Another incumbent is vying for re-election in Windsor.
Surrounded by family and supporters at Roseland Park on Friday, Kieran McKenzie announced he will seek another term representing Ward 9.
McKenzie said he thought "long and hard" about whether he's been making a difference at the council table and "doing things that reflect the wishes of the people" he represents.
"We're definitely making progress on a lot of different files — things are better than they were four years ago," he said.
"Am I doing good work? I think I am. I'm gonna go to the electorate and ask if they agree that they're happy with the progress we're making out here in Ward 9. There's a lot of work left to do."
First elected to council in 2018, McKenzie said he feels he now has a "really strong understanding" of the ward, which he described as a "pretty complicated area" that will see significant growth and development in the next two decades.
Stormwater management and addressing basement flooding are a top priority for McKenzie going forward. While the city is making "major investments" in its sewer master plan, he wants to see some of those funds better targetted to select pockets of Windsor, particularly in Ward 9, that have "infrastructure deficits."
Only one other candidate is in the running for Ward 9 so far. Local lawyer Harinder Cheema threw his hat in the ring earlier this month.
More On This Topic
Costante to seek re-election in Windsor's Ward 2

Two BIA chairs in ward races; month left to file papers

Holt announces he's running for the Windsor mayor's job
The final day to file nomination papers is Aug. 19.
McKenzie is the seventh Windsor incumbent to make his election intentions known. Also seeking re-election are Ward 2 Coun. Fabio Costante, Ward 7 Coun. Jeewen Gill, Ward 8 Coun. Gary Kaschak, and Ward 10 Coun. Jim Morrison. Ward 4 Coun. Chris Holt is running for mayor, and Ward 3 Coun. Rino Bortolin will not be running at all.
Windsor Mayor Drew Dilkens has not yet announced his plans for the upcoming municipal election, nor have Ward 1 Coun Fred Francis, Ward 5 Coun. Ed Sleiman, and Ward 6 Coun. Jo-Anne Gignac.
Election Day is Oct. 24.
tcampbell@postmedia.com
twitter.com/wstarcampbell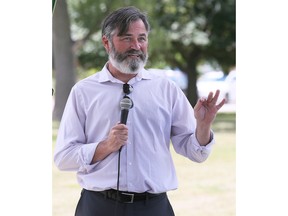 Sign up to receive daily headline news from the Windsor Star, a division of Postmedia Network Inc.
By clicking on the sign up button you consent to receive the above newsletter from Postmedia Network Inc. You may unsubscribe any time by clicking on the unsubscribe link at the bottom of our emails. Postmedia Network Inc. | 365 Bloor Street East, Toronto, Ontario, M4W 3L4 | 416-383-2300