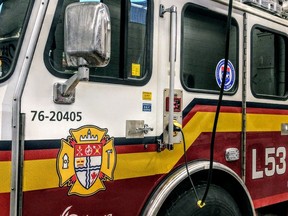 Two lanes of Highway 417 eastbound near Pinecrest were shut down Thursday evening as emergency crews responded to a collision and vehicle rollover.
The Ottawa Fire Service was called to the rollover shortly before 6:40 p.m. and responding crews found someone trapped inside a vehicle, according to a fire service news release. They worked quickly to remove the person.
Three vehicles were involved in the collision, according to OFS spokesperson Nicholas DeFazio.
Ottawa Paramedic Service commander Stephanie Mills said one person was transported to hospital in stable condition, and three others were assessed by paramedics, but not taken to hospital.
Photos from the scene show a blue vehicle lying on its side, post-extrication, with heavy damage.

Ottawa Citizen Headline News
Sign up to receive daily headline news from Ottawa Citizen, a division of Postmedia Network Inc.
By clicking on the sign up button you consent to receive the above newsletter from Postmedia Network Inc. You may unsubscribe any time by clicking on the unsubscribe link at the bottom of our emails. Postmedia Network Inc. | 365 Bloor Street East, Toronto, Ontario, M4W 3L4 | 416-383-2300