"It's been a really, really hard time for parents with young kids."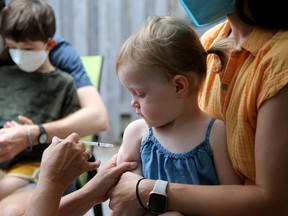 Relief was the feeling a number of Ottawa parents described Thursday, having successfully secured COVID-19 vaccination appointments for their children under five.
"Honestly … talking about it makes me choke up a little bit. It's been a really, really hard time for parents with young kids," said Katie Gibbs, a mother of two who booked a vaccination time slot for her two-and-a-half-year-old daughter Ellie at the Ottawa Birth and Wellness Centre.
"Obviously over the past few months we've really abandoned almost all of the public health measures and the messaging really shifted towards focusing on individual risk and what we could do to protect ourselves. And we heard again and again that, 'Well, if you're worried about COVID, you know, you can get vaccinated, you can wear a mask' … For those of us with kids under five, we didn't really have that opportunity," Gibbs said.
Health Canada approved Moderna's pediatric shot this month — it's half the amount given to children aged six to 11. The vaccine is a two-dose series given at a recommended interval of eight weeks.
Ontario's booking portal opened Thursday for pediatric vaccine appointments for children aged six months to under five years. Both Ottawa Public Health and CHEO said they were ready to start giving shots to little ones.
"Although most children who get infected have no symptoms or mild symptoms, some can become very sick and require hospitalization," Ontario Chief Medical Officer of Health Dr. Kieran Moore said last week. "The vaccine offered to children aged six months to under five years is a lower dose that is safe and effective at protecting this age group from COVID-19.
"Even if a child has already had COVID-19, vaccination will help to further improve the immune response and provide more robust protection. I encourage every parent and caregiver to consider getting their younger children vaccinated and protected, especially if they are immunocompromised or have other serious medical conditions."

Ottawa Public Health has recorded a total of 48 cases of COVID-19 among Ottawa children ages zero to nine that involved hospital treatment for active infections, including four in intensive care units.
Julien Lamarche was able to secure a vaccine appointment for his two-year-old son on Aug. 10, but was feeling anxiety about the wait and the potential for his son to contract COVID-19 before then. Ottawa has been hit by another surge in infections, and last week, Medical Officer of Health Dr. Vera Etches said data suggested the city's level of COVID-19 was higher than January's Omicron wave.
In addition to the provincial booking portal — parents this newspaper interviewed said they were easily able to secure appointments — Ontario families can also arrange vaccination for their children through health units using their own booking systems plus some primary-care providers and participating pharmacies.
Ottawa father Scott Cramer said that, although the pandemic continues, and his family continued to take precautions such as masking in large crowds, their lifestyle had largely returned to normal. Booking a vaccine for his three-year-old daughter was "a sigh of relief," he said.
"She's a young kid, and we can only do so much to protect her, and we wanted to do as much as we can."

CHEO said the Kids Come First Health Team is holding vaccination clinics at CHEO for children "who need a bit of extra help getting their vaccine."
Also starting Thursday, immunocompromised youths ages 12 to 17 can schedule second boosters if six months have passed since their first booster doses.
More On This Topic
As COVID-19 vaccinations open to young children, OPH receives enough to cover 10 per cent of those eligible in first week

'Nobody thinks that is OK': Children now waiting longer than adults for almost all health procedures
We've made it, Ottawa!!!! We are beyond thankful for the work of our local, provincial & federal partners that got us here!

And we're ready to begin vaccinating and protecting the youngest members of our community!

Book your child's appt here: https://t.co/7Vn6Xt2llV pic.twitter.com/YUtZXlNkKi

— Ottawa Public Health (@OttawaHealth) July 28, 2022
Article content
I am beyond excited to share that the Ottawa Birth & Wellness Centre with @OttawaHealth will be hosting vaccine clinics for our under 5 population on the dates ⬇️. Booking is through the OPH website or provincial system. Excited to host our littlest Ottawans. #ottcity #vaccine pic.twitter.com/JggTrAoc0r

— Elyse Banham (@ebanham) July 28, 2022
Sign up to receive daily headline news from Ottawa Citizen, a division of Postmedia Network Inc.
By clicking on the sign up button you consent to receive the above newsletter from Postmedia Network Inc. You may unsubscribe any time by clicking on the unsubscribe link at the bottom of our emails. Postmedia Network Inc. | 365 Bloor Street East, Toronto, Ontario, M4W 3L4 | 416-383-2300