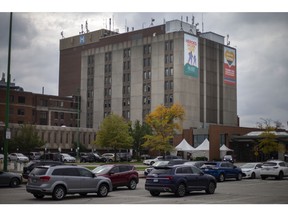 Windsor Regional Hospital continues to deal with COVID-19 outbreaks on several floors of both of its hospital locations.
The units currently experiencing outbreaks include 7 North, 6 North, 5 North, 4 North, and 4 West at the hospital's Met Campus. At the Ouellette campus, both 7 East and 7 West are dealing with outbreaks.
Presently, 39 patients have tested positive for COVID-19 on the outbreak units. The majority of patients are currently not experiencing any symptoms. The majority of transmission has been limited to individuals that have shared a room, according to hospital officials.
It is being recommended unvaccinated individuals do not visit units that are under outbreak. All visitors to the hospital must continue to comply with masking requirements.
Precautions remain in place at both campuses and on all units to identify potential outbreaks. All patients continue to be tested for COVID-19 on admission into hospital and again during their stay in hospital whether they are symptomatic or not.
Visit online at www.ontario.ca/coronavirus or www.wrh.on.ca for regular updates on COVID-19.
Windsor Star Headline News
Sign up to receive daily headline news from the Windsor Star, a division of Postmedia Network Inc.
By clicking on the sign up button you consent to receive the above newsletter from Postmedia Network Inc. You may unsubscribe any time by clicking on the unsubscribe link at the bottom of our emails. Postmedia Network Inc. | 365 Bloor Street East, Toronto, Ontario, M4W 3L4 | 416-383-2300